A golden hour wedding, bathed in the warm glow of the setting sun, is a magical celebration. Combining the timeless charm of beige with a dash of soft pink, touches of gold, rustic elements, and the elegance of marble, your wedding will be a dream come true. To make sure every aspect of your special day aligns with your vision of "Golden Hour Elegance," let's explore the essential elements that will make your wedding an unforgettable experience.
1. Wedding Invitations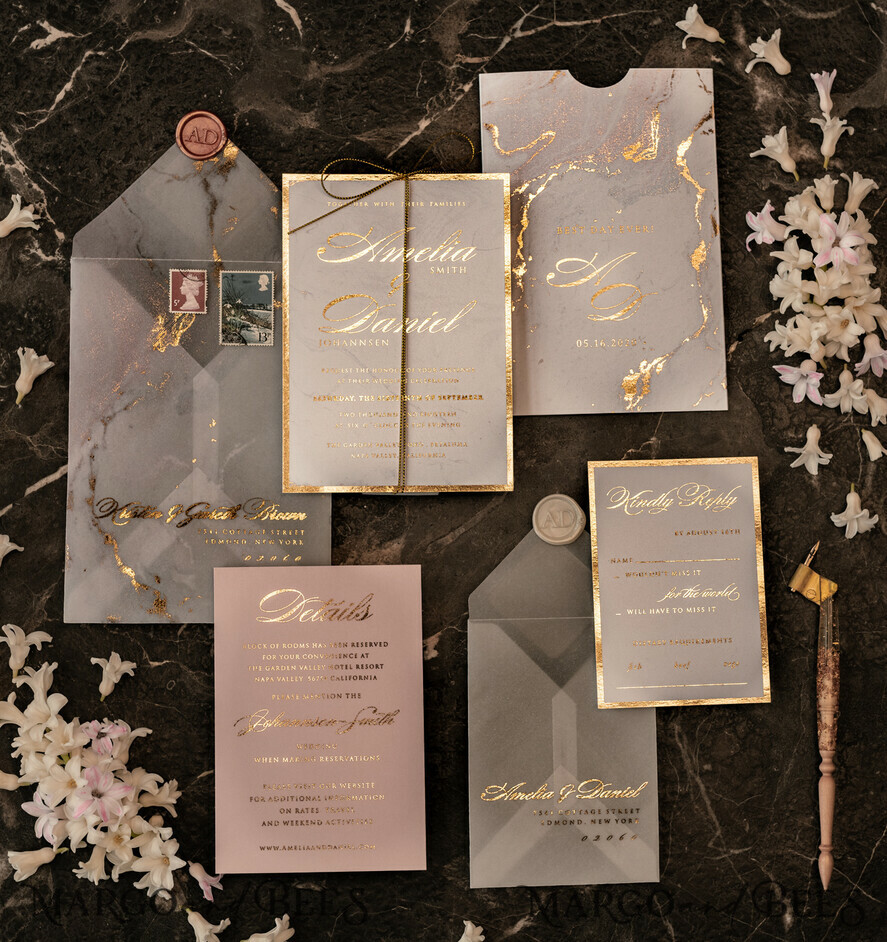 Your wedding invitations set the stage for the entire event. Choose invitations that reflect the soft, romantic hues of beige and pink, accented with touches of gold and marble designs. These invitations should be a beautiful preview of the elegance and warmth that your wedding will exude.
2. Flowers
The choice of flowers for your wedding plays a significant role in conveying the atmosphere. Select soft, delicate blooms like blush pink roses, creamy peonies, and beige-hued dahlias to create elegant floral arrangements. These choices harmonize beautifully with the golden hour's warm, soft lighting, evoking a sense of romance and serenity.
3. Guest Book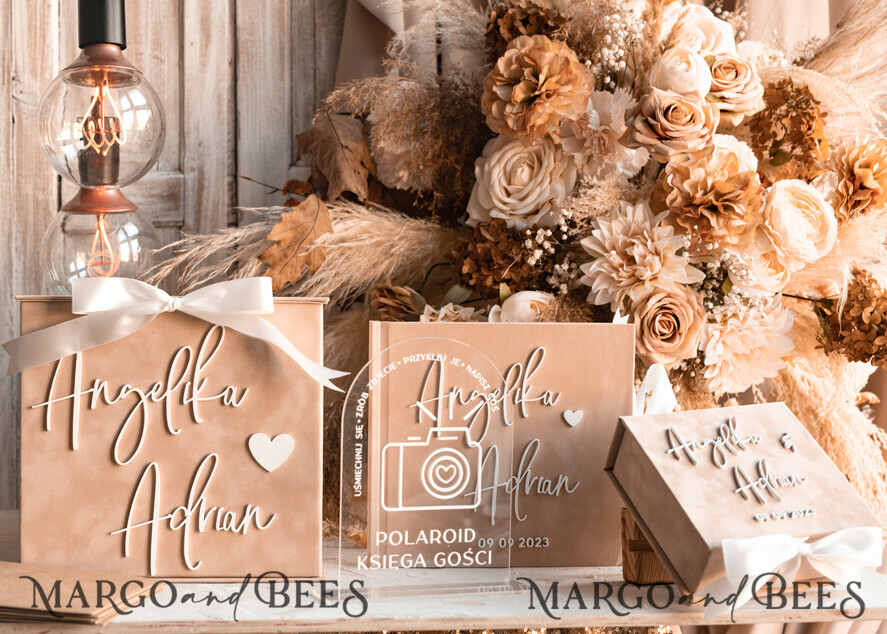 Choose a guest book with a cover that echoes the warm and rustic elegance of your wedding theme. A beige linen-bound book with gold foil embossing is an excellent choice. It will not only capture your guests' well-wishes but also enhance the decor as a beautiful keepsake.
4. Table Setting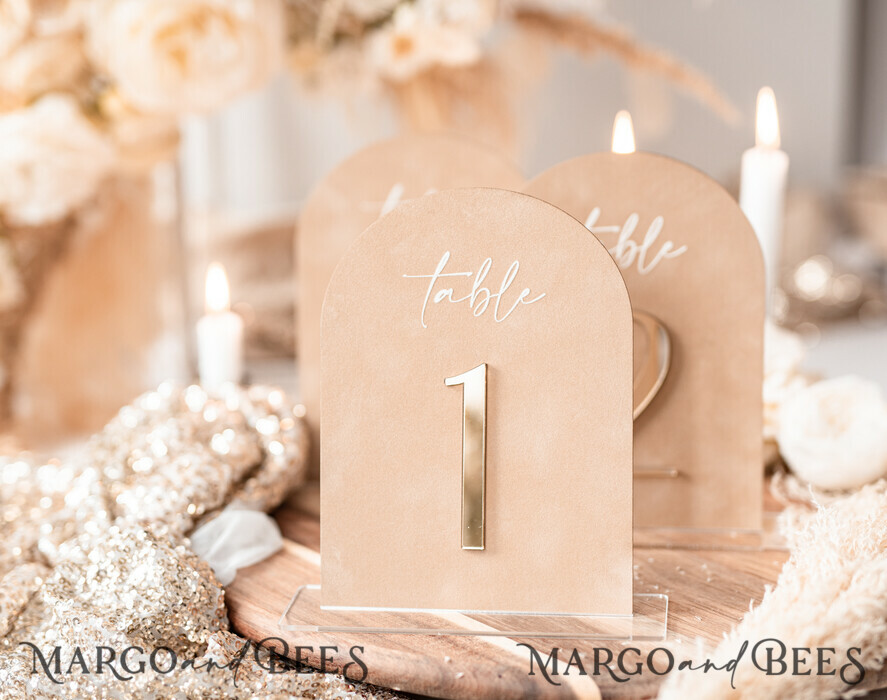 The table setting is another vital element of your wedding. Use beige and blush pink linens to create a soft, inviting canvas. Add gold or marble charger plates and elegant flatware, creating a harmonious and sophisticated atmosphere.
5. Ring Box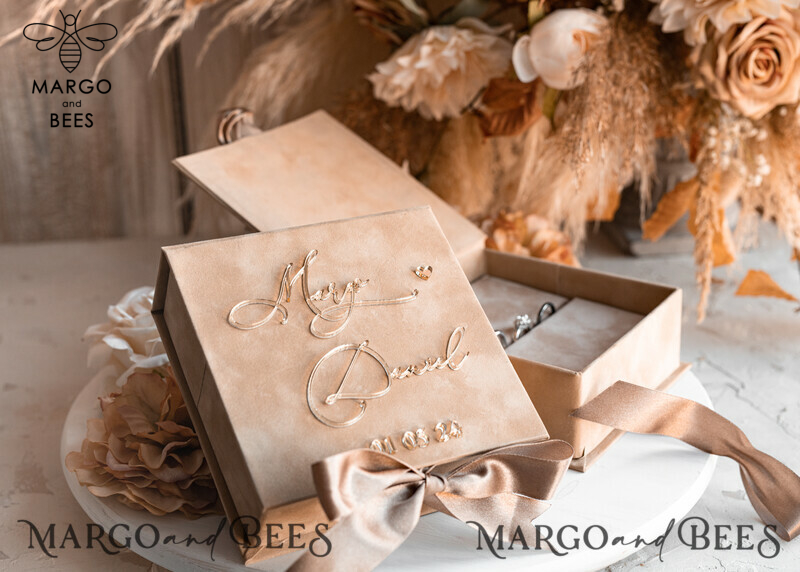 For your rings, select a ring box that encapsulates the essence of your golden hour wedding. A wooden ring box with marble and gold detailing complements your theme wonderfully. It not only protects your precious rings but also adds to the overall rustic and elegant aesthetic.
6. Box for Envelopes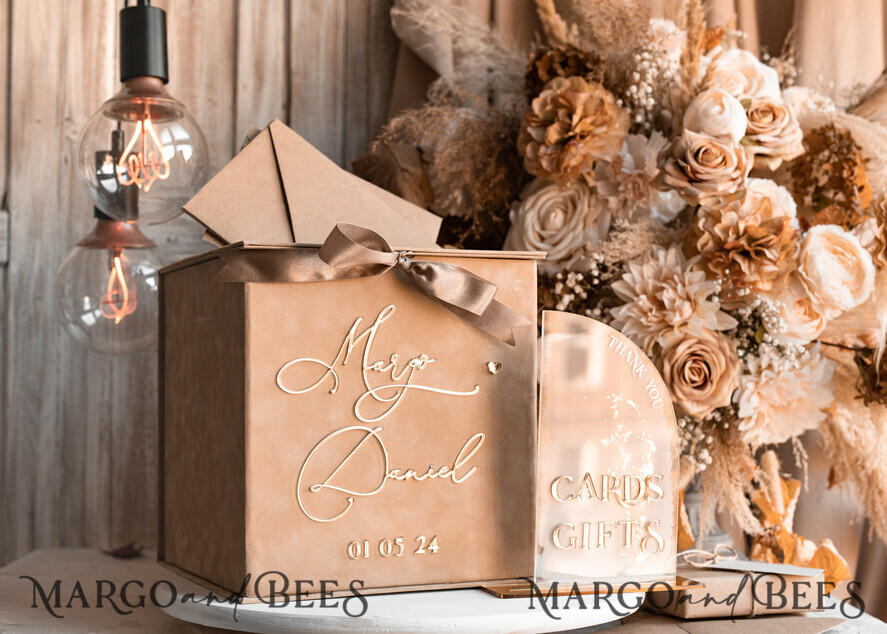 Keep your wedding cards and well-wishes secure with a decorative envelope box that matches your theme. Consider a beige and gold box with a touch of blush pink for an elegant solution that blends seamlessly with your decor.
7. Bridesmaids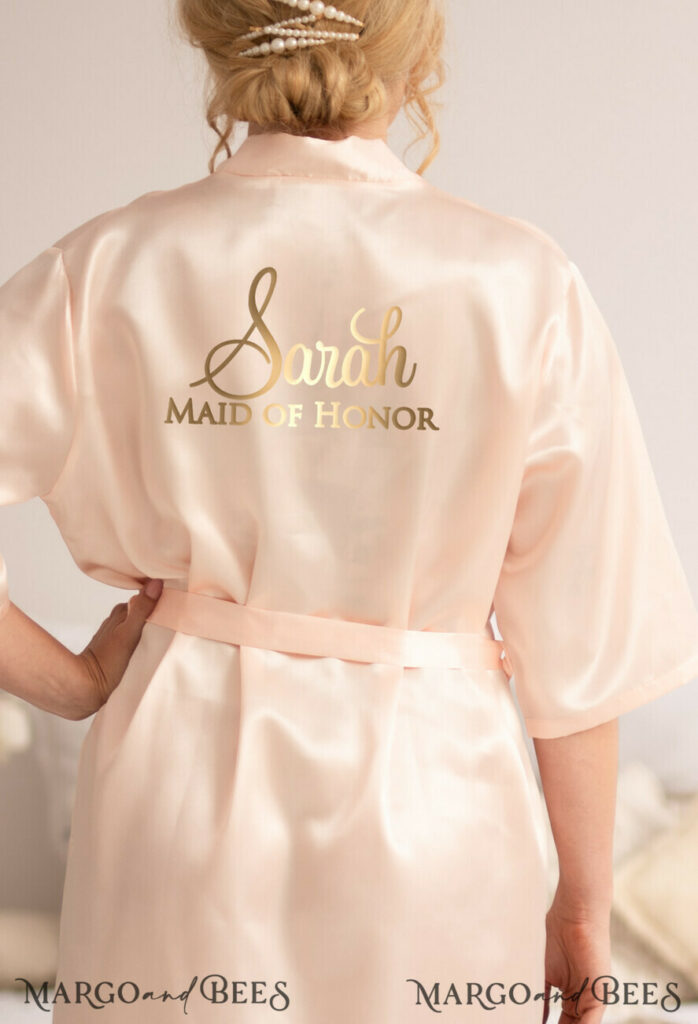 Your bridesmaids play a significant role in your wedding day, and their attire can further enhance your theme. Consider dressing your bridesmaids in blush pink gowns or beige dresses, with small gold or marble accessories to complement the overall palette. Their presence and style will add to the elegance and beauty of the day.
In your "Golden Hour Elegance" celebration, each of these essentials, from your invitations to your floral arrangements and keepsake items, plays a role in creating a day that is beautifully wrapped in the serenity and warmth of the golden hour. You and your guests will leave with memories to cherish and a sense of timeless elegance that will last a lifetime.