In the world of weddings, where dreams are spun into reality, the theme sets the stage for an unforgettable experience.
For those who seek the allure of the mysterious and the charm of the macabre, a dark-themed wedding is the epitome of uniqueness and elegance.
Among the myriad of choices for a wedding, Halloween-themed celebrations stand out, with their enchanting blend of spookiness and romance. In this article, we delve into the mesmerizing world of Halloween Wedding Invitations Suite, exploring the captivating allure of black invitations, spooky Halloween invites, Gothic wedding invitation cards, and everything in between.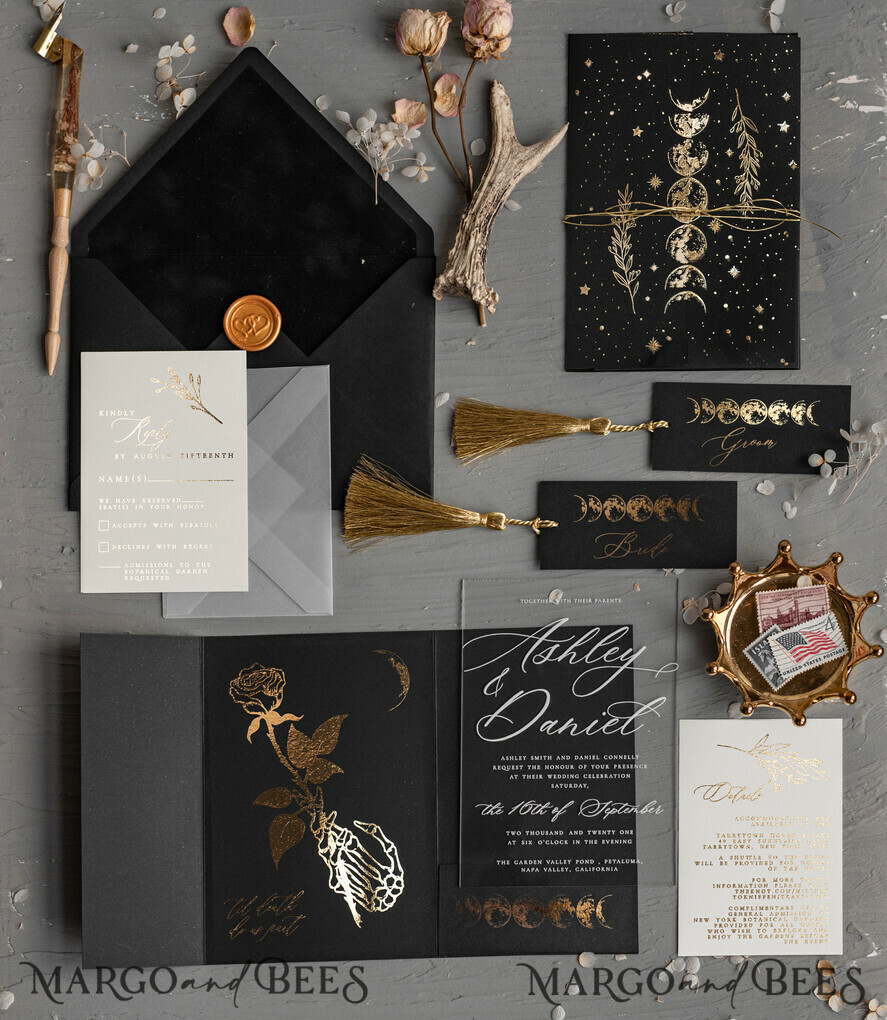 The Timeless Elegance of Black Invitations
Black, a color often associated with mystery and sophistication, takes center stage in the realm of wedding stationery.
Black invitations exude a sense of timeless elegance, making a bold statement that captures attention from the very first glance.
Imagine receiving an invitation enclosed in a sleek, black envelope, adorned with intricate calligraphy – a promise of an event shrouded in mystique and charm.
Gothic Wedding Invitations: Where Darkness Meets Romance
Gothic wedding invitations are a masterpiece of design, seamlessly blending elements of dark allure and timeless romance.
These invitations often feature ornate lace patterns, vintage roses, and delicate yet haunting imagery.
The play of black and white creates a striking contrast, making each detail stand out, echoing the theme of 'till death do us part'. Skeleton wedding sets, adorned with intricate skeletal motifs, bring an element of spooky charm, adding a touch of whimsy to the affair.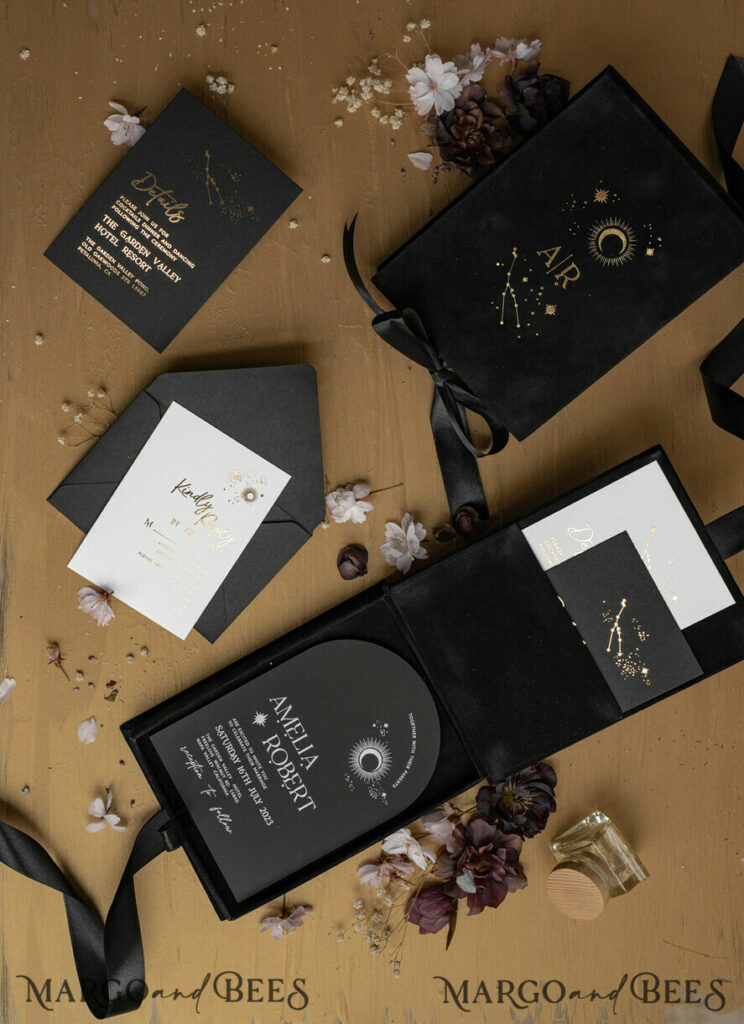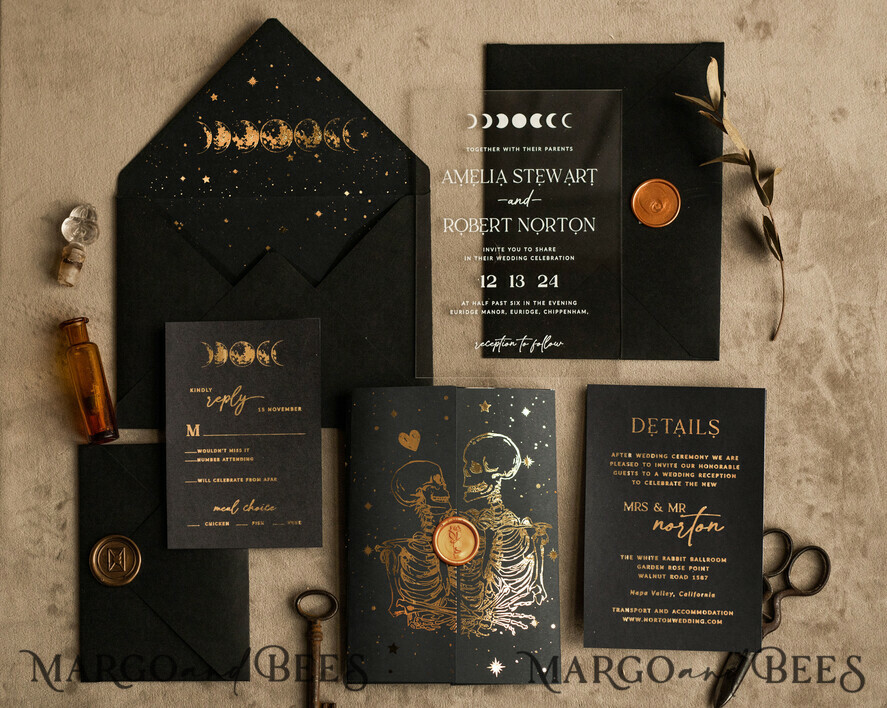 The Fusion of Modern and Vintage: Gothic Wedding Invitations with a Twist
Modern wedding invitations infused with vintage charm create a delightful fusion of the past and present.
Vintage rose motifs, combined with Gothic elements, evoke a sense of nostalgia and romance.
These invitations are often designed with a keen eye for detail, incorporating the richness of the Victorian era with a contemporary twist.
The result is a wedding invitation that is both classic and avant-garde, catering to couples who appreciate the beauty of the past in a modern context.
Rocking the Wedding Scene: Dark Wedding Invitations with a Edge
For couples with a penchant for the unconventional, rock wedding invitations offer a unique blend of edginess and sophistication. These invitations often feature bold typography, grunge-inspired designs, and dark color palettes.
Skull motifs, leather textures, and metallic accents add a touch of rebellion to the stationery, making a powerful statement that resonates with the spirit of rock and roll.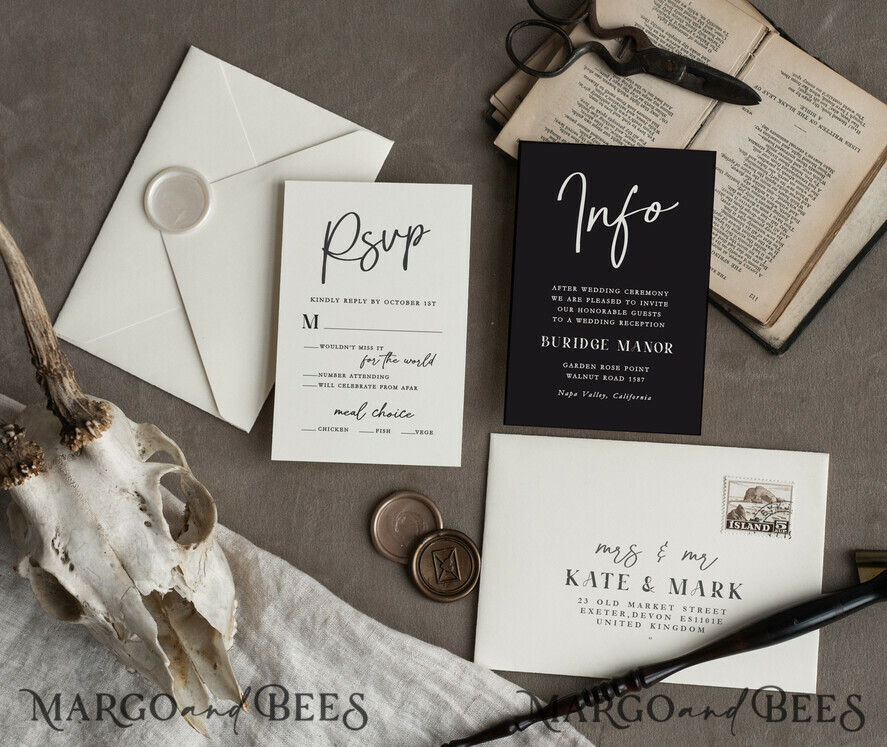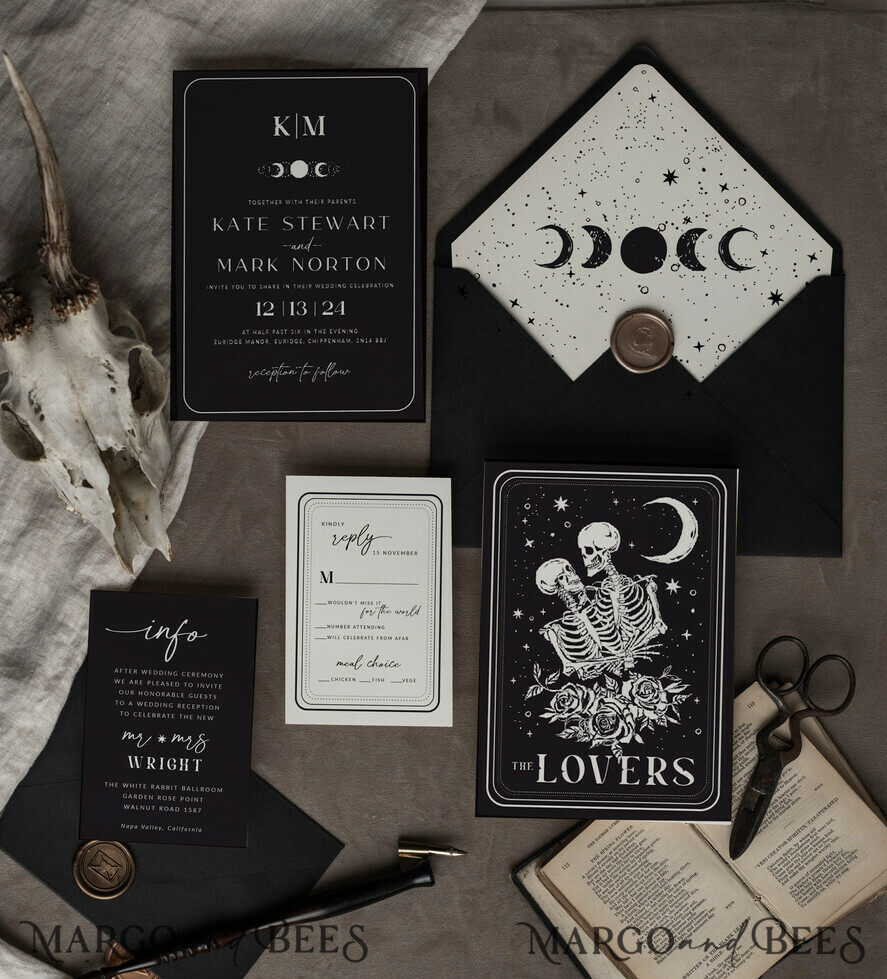 Creating a Cohesive Atmosphere: Beyond Invitations
The allure of a dark-themed wedding extends far beyond invitations; it permeates every aspect of the celebration.
Table signs, card boxes, guest books, and other decorative elements play a pivotal role in enhancing the atmosphere, ensuring that the theme is seamlessly integrated into every detail of the event.
Elegant Table Signs: Guiding Guests Through the Shadows
Table signs, adorned with intricate Gothic fonts and haunting motifs, serve as ethereal guides, leading guests through the shadows of the reception venue.
Whether they are named after famous literary vampires or gothic landmarks, these signs add an element of mystery to the seating arrangements. |
Crafted from black wood, adorned with delicate silver or gold lettering, or even etched with subtle skull designs, these table signs stand as dark, elegant sentinels amidst the celebration, reinforcing the theme in a sophisticated manner.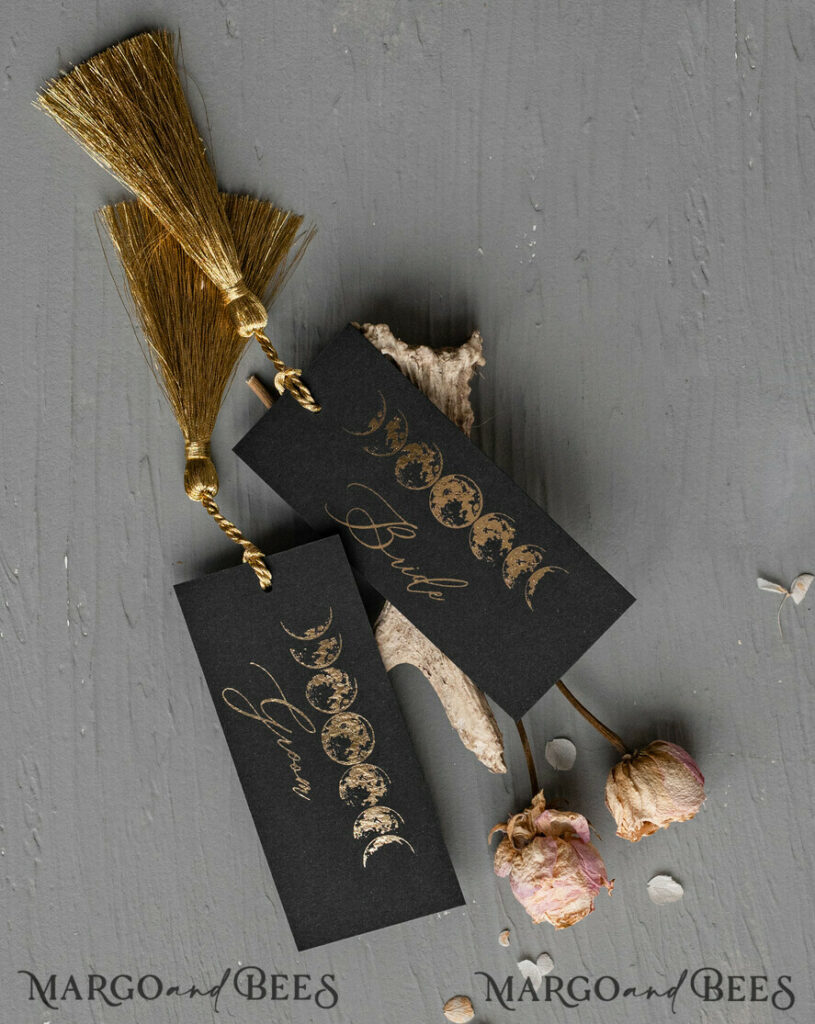 Enchanting Card Boxes: Where Elegance Meets Utility
Card boxes, an essential part of any wedding, can be transformed into enchanting artifacts that perfectly align with the dark-themed ambiance.
Card boxes, adorned with velvet fabric and silver spiderweb motifs, or ornate Victorian-style cages, create a sense of mystique as guests drop their well-wishes into the darkness within. These card boxes, doubling as decorative pieces, become memorable focal points, capturing the essence of the theme and leaving a lasting impression on everyone present.
Guest Books: Chronicles of Love in the Shadows
Guest books, often overlooked, offer a unique opportunity to infuse the wedding theme into a cherished keepsake.
A leather-bound guest book, embossed with silver skulls or adorned with vintage rose designs, becomes a chronicle of love in the shadows. Guests can leave their messages of love and support, creating a tapestry of sentiments that resonate with the theme. The juxtaposition of elegant, dark aesthetics with heartfelt messages creates a beautiful contrast, symbolizing the harmony between mystery and love.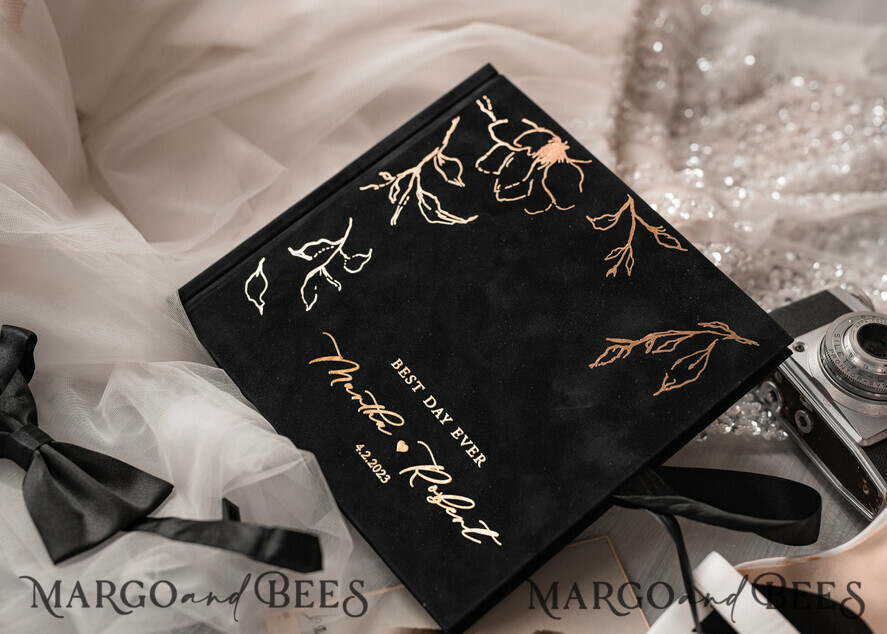 Beyond invitations, table signs, card boxes, and guest books, the dark-themed wedding experience can be further enhanced through carefully curated details. Black roses and orchids, elegant candelabras adorned with dripping candles, and ghostly silhouettes adorning the walls create an atmosphere that is both haunting and enchanting. Dark linens, silverware, and glassware add depth to the table settings, while subtle candlelight casts a soft, flickering glow, illuminating the surroundings in a bewitching manner.
Incorporating the theme into every aspect of the wedding, from the first glance at the invitation to the final farewell, transforms the celebration into an immersive experience. It's not just a wedding; it's a journey into the mysterious, a celebration of love that embraces the shadows and finds beauty in the unconventional. With every meticulously chosen detail, the dark-themed wedding becomes a work of art, a masterpiece that lingers in the memories of all who attend, showcasing the endless possibilities of celebrating love in the most enchanting and unique ways.
Boho wedding invitations • Floral Elegant Wedding Invites • Botanical wedding Stationery
Our unique Minimalistic wedding invitations• Floral Wedding Invitation Suite • Handmade wedding Stationery are characterized by high quality materials obtained from around the world. All our handmade Modern wedding invitations• Modern Wedding Invitation Suite • Floral wedding Invites   are handmade with love and care, our handmade Boho wedding invitations • Floral Elegant Wedding Invites • Botanical wedding Stationery   are made for Your wedding. We take care of every detail so that the setting for your wedding is perfect. The latest trends in the category of personalized Boho Glam wedding invitations • Luxury Wedding Invitation Suite • Luxury wedding Cards are very close to us. Individual implementation of each order makes all your custom-made Simple wedding invitation Suite • Romantic Wedding Stationery • Luxury wedding Invites   unique and unique. If you are planning a  classic elegant ceremony in a unique setting, our Elegant wedding invitations • Elegant Wedding Invitation Suite • Handmade wedding Invites   with amazig desings  will be perfect. Each Bohemian wedding invitation Suite • Luxury Wedding Invitation Suite • Handmade wedding Stationery   is handcrafted in a special way, which makes each Modern wedding invitations• Modern Wedding Invitation Suite • Floral wedding Invites   unique and one of a kind. Elegant wedding invitations • Elegant Wedding Invitation Suite • Handmade wedding Invites   perfect for an outdoor wedding are characterized by unique design and an unusual form. Simple wedding invitation Suite • Romantic Wedding Stationery • Luxury wedding Invites are intended for young couples who value uniqueness and want to surprise their guests. Boho Glam wedding invitations • Luxury Wedding Invitation Suite • Luxury wedding Cards   are made of the highest quality, carefully selected materials, which make the invitations a piece of art

Boho Glam wedding invitations • Luxury Wedding Invitation Suite • Luxury wedding Cards

Gothic wedding invitations, skeleton wedding invitations, gothic wedding, gothic, till death do us part, modern wedding invitations, vintage rose, vintage wedding invitations, rock wedding, rock wedding invitations, dark wedding invitations, black card, black wedding invitations, calligraphy, black and white wedding invitations, halloween wedding invitations, halloween wedding, floral wedding invitations