Planning a Halloween-themed wedding is an opportunity to infuse your special day with a captivating blend of spookiness and romance.
To help you create the perfect atmosphere, we are thrilled to introduce our exclusive collection of Halloween wedding stationery. From invitations that set the tone to table numbers that guide your guests and menus that add a dash of spook to your culinary delights, our Halloween wedding stationery is designed to make your celebration unforgettable.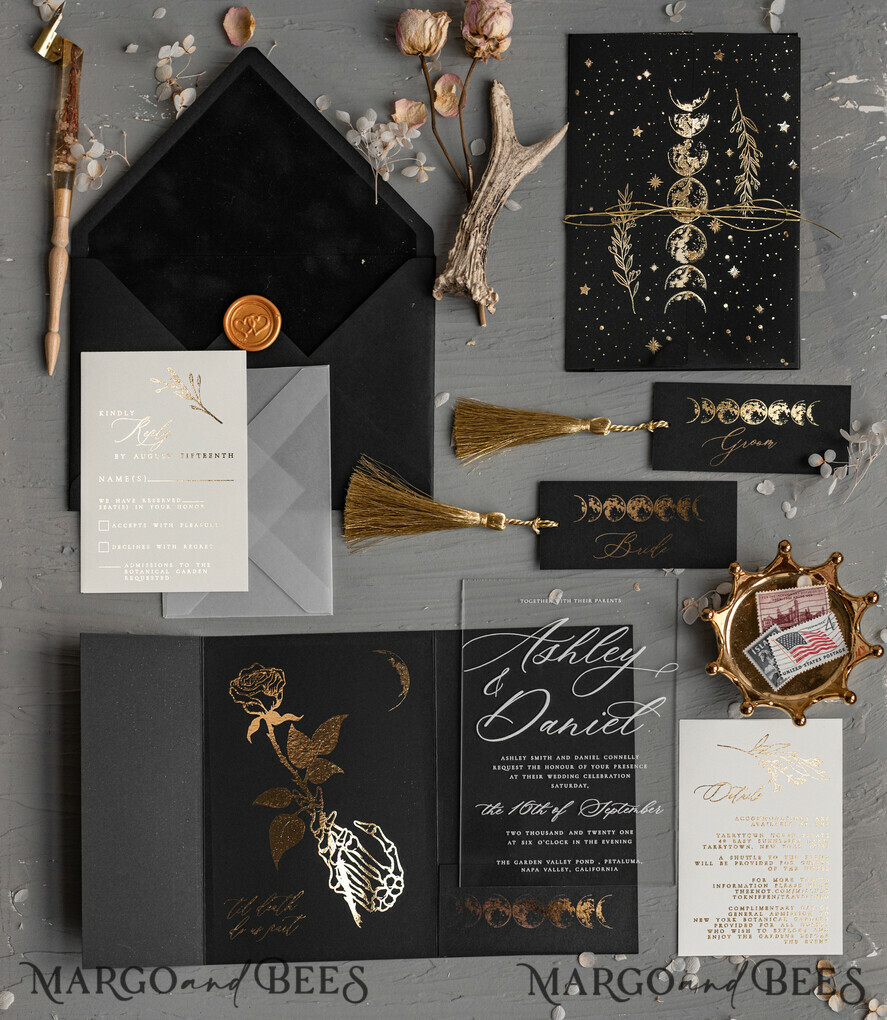 Elegance in Darkness:
Our black invitations convey a sense of mystery and sophistication. They serve as a canvas for your unique Halloween-themed designs while exuding an air of dark elegance.
Gothic Inspiration:
With Gothic-inspired fonts and ornate embellishments, our invitations exude timeless grandeur. These details perfectly complement the allure of Halloween, making them a stunning choice for your wedding.
Spooky Charm:
Choose from a selection of spooky imagery, from haunted mansions to moonlit landscapes. Our designs transport your guests into the heart of your Halloween wonderland.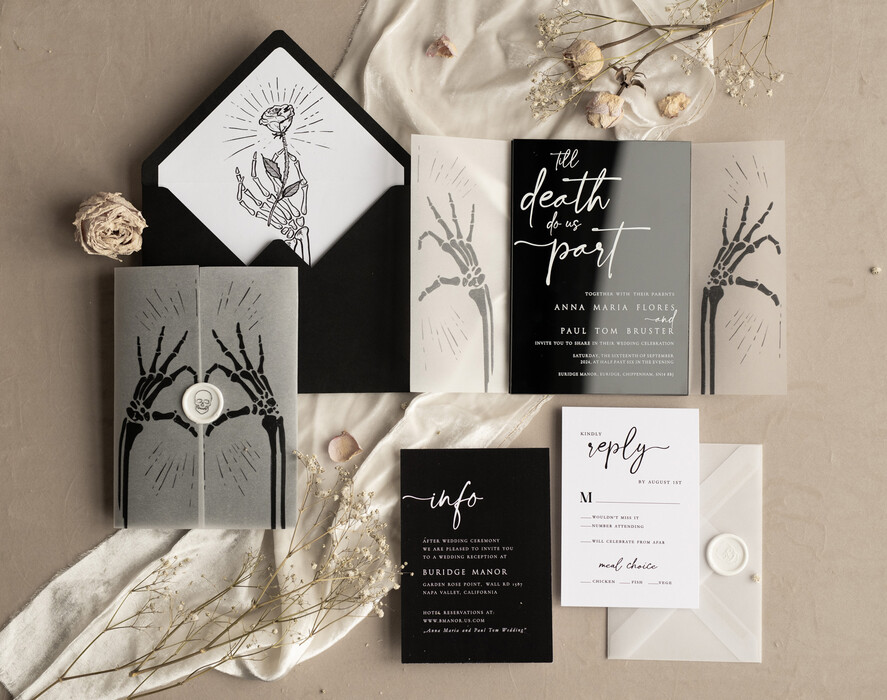 At Margo and Bees, we understand the importance of personalization.
Our Halloween wedding stationery allows you to make every detail uniquely yours.
Share Your Story:
Incorporate personal anecdotes or stories that tie you and your partner to the Halloween theme, making your stationery even more meaningful.
Explore Colors:
In addition to classic black and gold, consider rich variations like deep burgundy, midnight blue, or emerald green to infuse your personality into the design.
Texture and Embellishments:
Add tactile appeal with embossed elements, textured paper, or wax seals, ensuring your stationery leaves a lasting impression.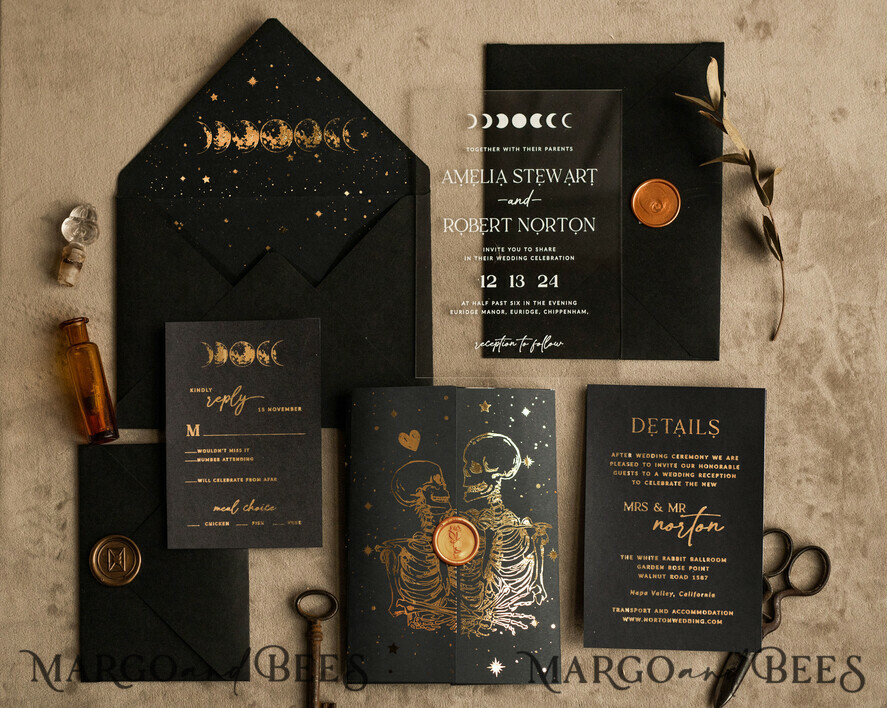 The primary color of these invitations is black, symbolizing mystery and sophistication.
It sets the stage for an event that's steeped in enchantment.
To add a touch of opulence, these invitations are adorned with gold accents, creating a sense of regal elegance, perfectly suited for your special day.
The Gold Skeleton Wedding Set adds a whimsical touch to your wedding invitations.
Skeleton couples dressed in wedding attire bring a sense of playfulness and uniqueness to your stationery.
The gold elements in this set provide a sophisticated counterbalance to the playful skeletons, resulting in a design that's both charming and elegant.
Gothic Wedding Invitation Cards bring a sense of timeless grandeur to your wedding.
With ornate fonts, intricate patterns, and vintage motifs, these invitations embody the essence of Gothic architecture and art.
They infuse your wedding with a touch of historical elegance, creating a bridge between the past and your promising future together.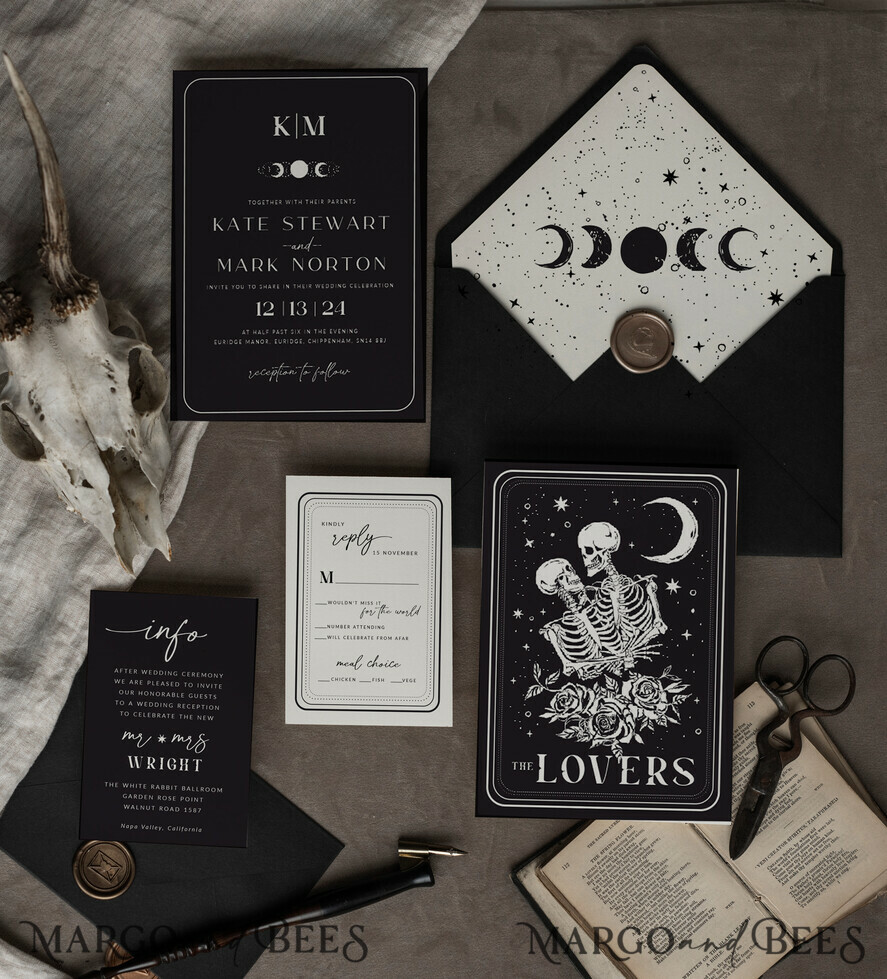 In addition to our captivating Halloween Wedding Invitations Suite, we offer a wide range of Gothic wedding stationery that complements the mystique of your celebration.

From Gothic-inspired place cards and ceremony programs to menu cards adorned with intricate patterns, our stationery is designed to elevate the elegance of your wedding, creating a cohesive and enchanting atmosphere.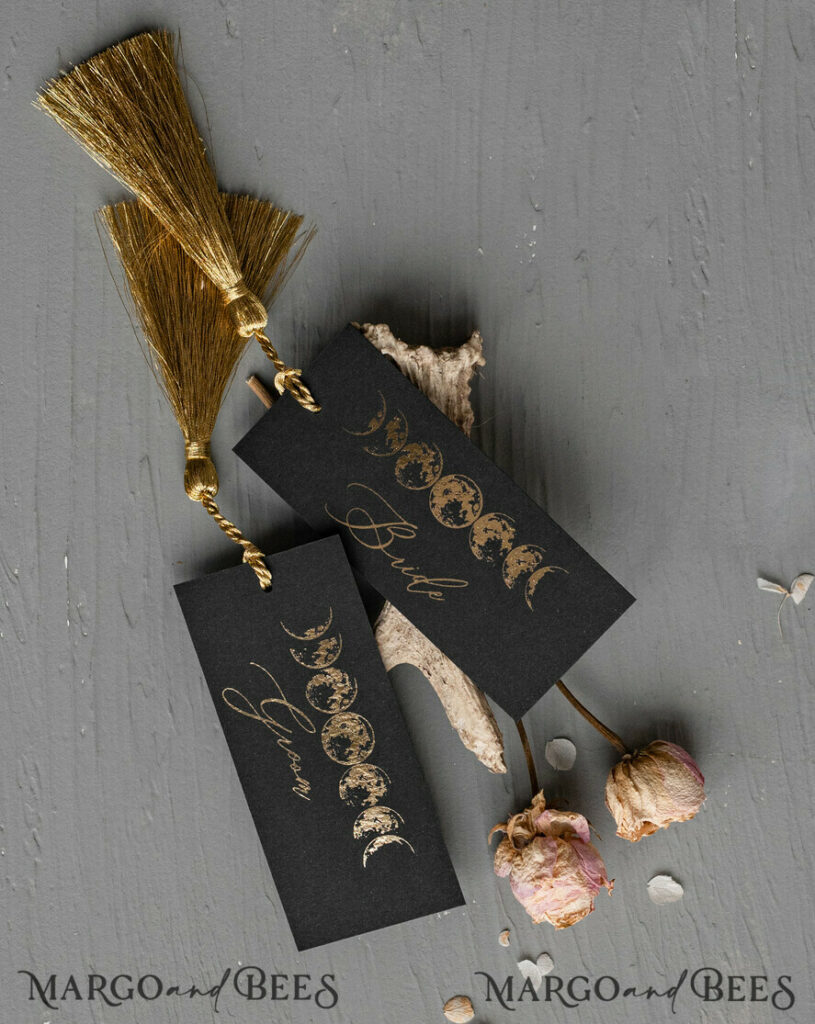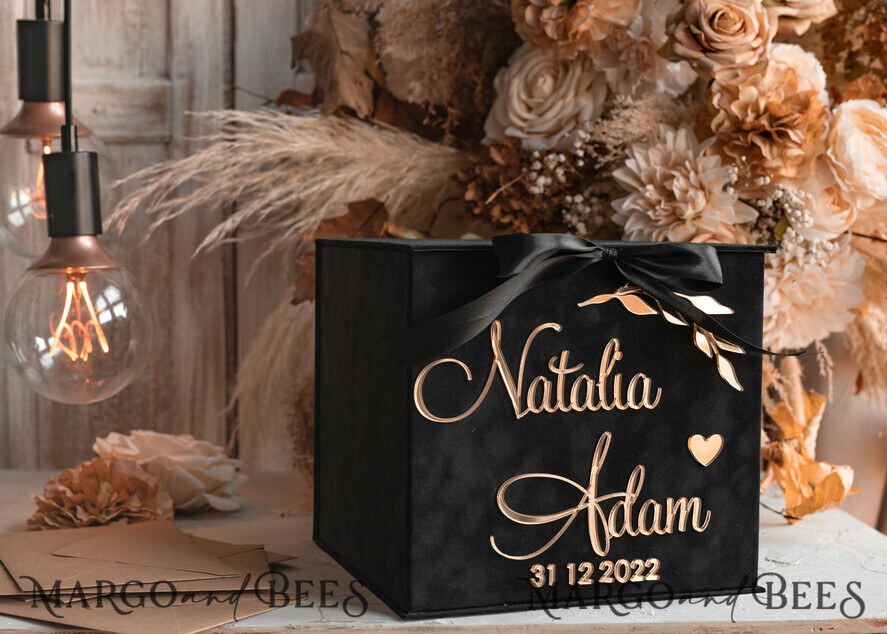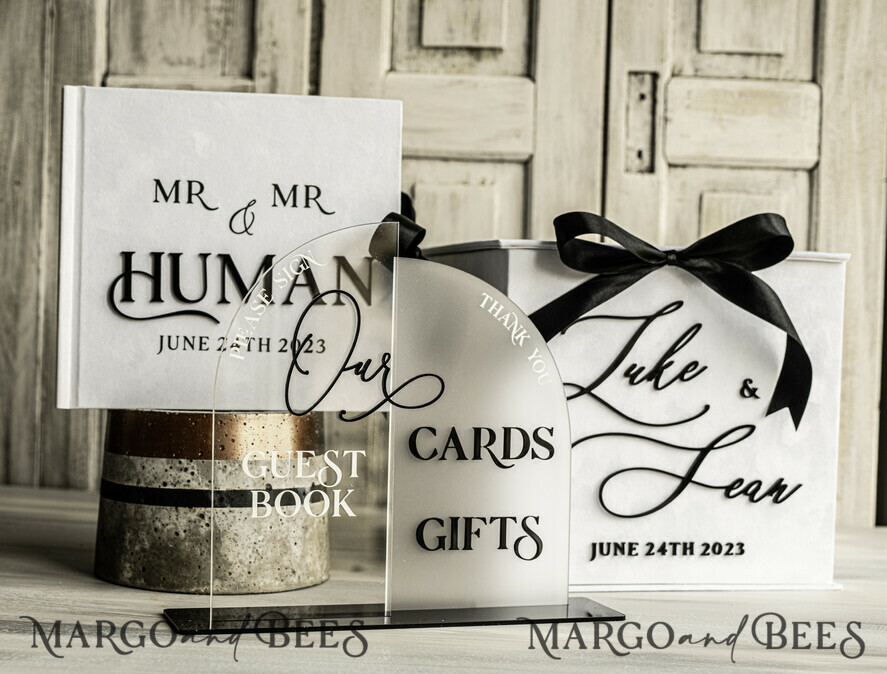 Your wedding invitations are the initial brushstrokes on the canvas of your magical day.
Halloween Wedding Invitations Suite, featuring black invitations, Tarot Cards Invites, and The Lovers Skeleton Wedding Set, beautifully capture the essence of mystery and elegance.
Whether you're drawn to the mysticism of tarot, the grandeur of Gothic, or the whimsical charm of skeletons, these invitations can be customized to tell your unique love story.
Alongside these enchanting invitations, our Gothic wedding stationery adds the finishing touches, creating a celebration like no other, where love and enchantment intertwine seamlessly in elegant black.
Boho wedding invitations • Floral Elegant Wedding Invites • Botanical wedding Stationery
Our unique Boho Glam wedding invitations • Luxury Wedding Invitation Suite • Luxury wedding Cards are characterized by high quality materials obtained from around the world. All our handmade Modern wedding invitations• Modern Wedding Invitation Suite • Floral wedding Invites are handmade with love and care, our handmade Elegant wedding invitations • Elegant Wedding Invitation Suite • Handmade wedding Invites are made for Your wedding. We take care of every detail so that the setting for your wedding is perfect. The latest trends in the category of personalized Simple wedding invitation Suite • Romantic Wedding Stationery • Luxury wedding Invites are very close to us. Individual implementation of each order makes all your custom-made Minimalistic wedding invitations• Floral Wedding Invitation Suite • Handmade wedding Stationery unique and unique. If you are planning a classic elegant ceremony in a unique setting, our Boho wedding invitations • Floral Elegant Wedding Invites • Botanical wedding Stationery with amazig desings will be perfect. Each Bohemian wedding invitation Suite • Luxury Wedding Invitation Suite • Handmade wedding Stationery is handcrafted in a special way, which makes each Boho Glam wedding invitations • Luxury Wedding Invitation Suite • Luxury wedding Cards unique and one of a kind. Boho wedding invitations • Floral Elegant Wedding Invites • Botanical wedding Stationery perfect for an outdoor wedding are characterized by unique design and an unusual form. Modern wedding invitations• Modern Wedding Invitation Suite • Floral wedding Invites are intended for young couples who value uniqueness and want to surprise their guests. Elegant wedding invitations • Elegant Wedding Invitation Suite • Handmade wedding Invites are made of the highest quality, carefully selected materials, which make the invitations a piece of art
Gothic wedding invitations, skeleton wedding invitations, gothic wedding, gothic, till death do us part, modern wedding invitations, vintage rose, vintage wedding invitations, rock wedding, rock wedding invitations, dark wedding invitations, black card, black wedding invitations, calligraphy, black and white wedding invitations, halloween wedding invitations, halloween wedding, floral wedding invitations, tarot cards invitations, the lover skeleton wedding set