When it comes to wedding themes that exude opulence and sophistication, few choices are as regal and timeless as an emerald green and gold color scheme. This combination of deep, lush green with the warm, rich tones of gold creates a wedding atmosphere that is both elegant and enchanting. To help you achieve the perfect "Elegance in Emerald" on your special day, let's explore the essential elements that will make your wedding celebration truly extraordinary.
1. Wedding Invitations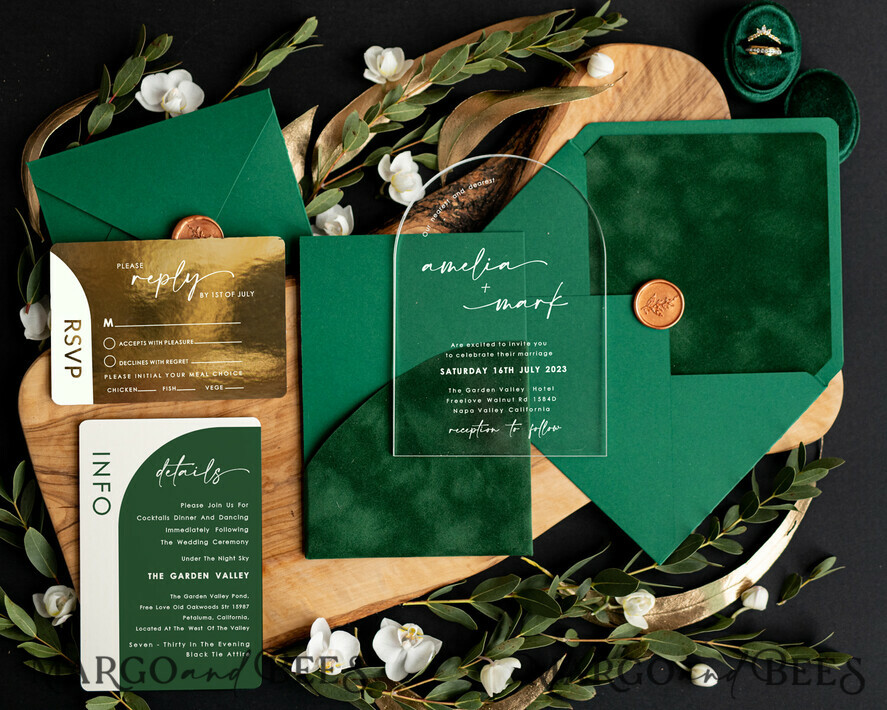 Your wedding invitations are the first glimpse your guests will have of your emerald green and gold wedding, so they should set the stage for the grandeur that awaits. Consider elegant emerald green and gold foil accents for a luxurious touch. These invitations will convey the regal atmosphere of your special day.
2. Table Setting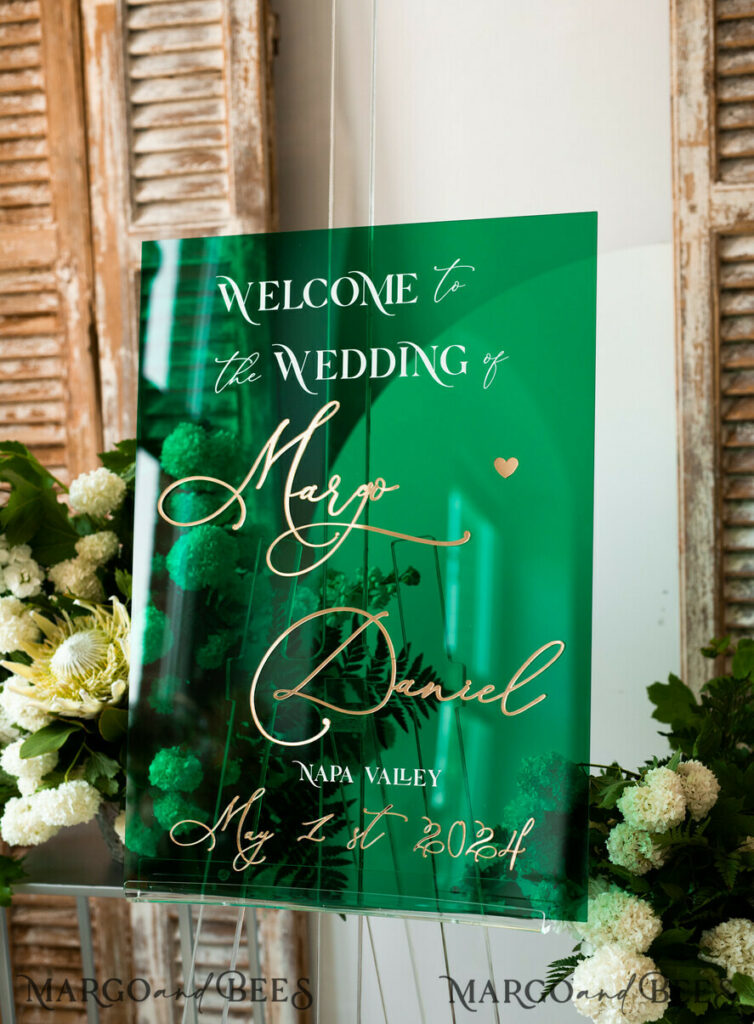 Creating a captivating table setting is essential for your emerald and gold wedding. Use emerald green table linens, gold charger plates, and gold-rimmed glassware to achieve a lavish, well-coordinated look. The contrast between the deep green and the shimmering gold will create an opulent ambiance that's truly breathtaking.
3. Flowers
Incorporate emerald green and gold hues into your floral arrangements. Use greenery like eucalyptus or ferns as the base, and add touches of gold-painted leaves or metallic gold accents to your floral centerpieces. Deep green succulents and rich red roses can add a dramatic and romantic touch to your bouquets and decor.
4. Wedding Book
Invest in an exquisite wedding book that will serve as a cherished keepsake of your special day. Look for emerald green or gold leather or velvet covers with custom embossing for a personalized touch. It will be a beautiful addition to your wedding decor and a lasting memento.
5. Table Arrangement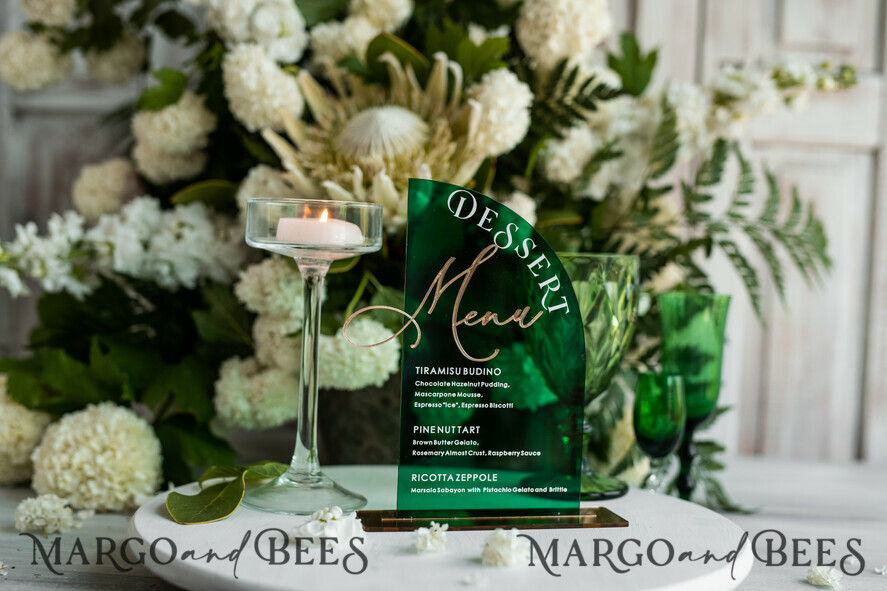 For your table arrangements, consider tall, grand centerpieces with emerald green candles and gold candleholders. These arrangements will create a sense of opulence and drama, making your reception tables truly magnificent.
6. Box for Envelopes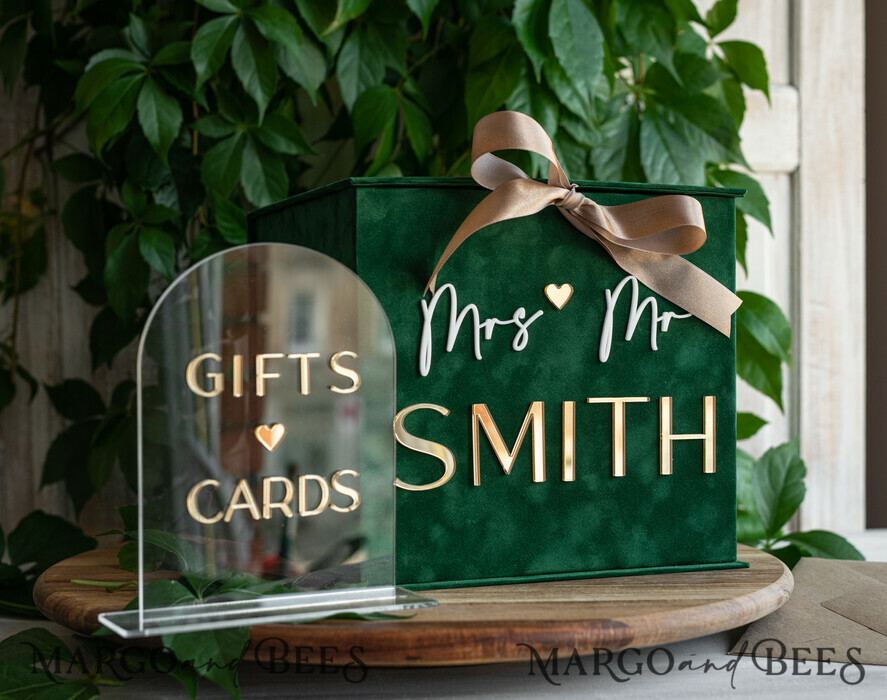 To ensure the safekeeping of your wedding cards and well wishes, choose a decorative box for envelopes. Choose an emerald green velvet box with gold accents to match the theme. This not only provides a practical solution but also adds to the overall decor.
Your emerald green and gold wedding will be a testament to elegance and extravagance. By incorporating these essential elements, from your wedding invitations to your table settings and floral arrangements, your "Elegance in Emerald" will be a celebration that you, your partner, and your guests will remember for a lifetime.