Fall weddings offer a unique opportunity to infuse warmth and rich colors into your special day, creating a memorable and cozy atmosphere. From the invitations to the decor, every aspect should reflect the essence of the season. Elevate your fall wedding with personalized touches and exquisite stationery that capture the beauty of autumn.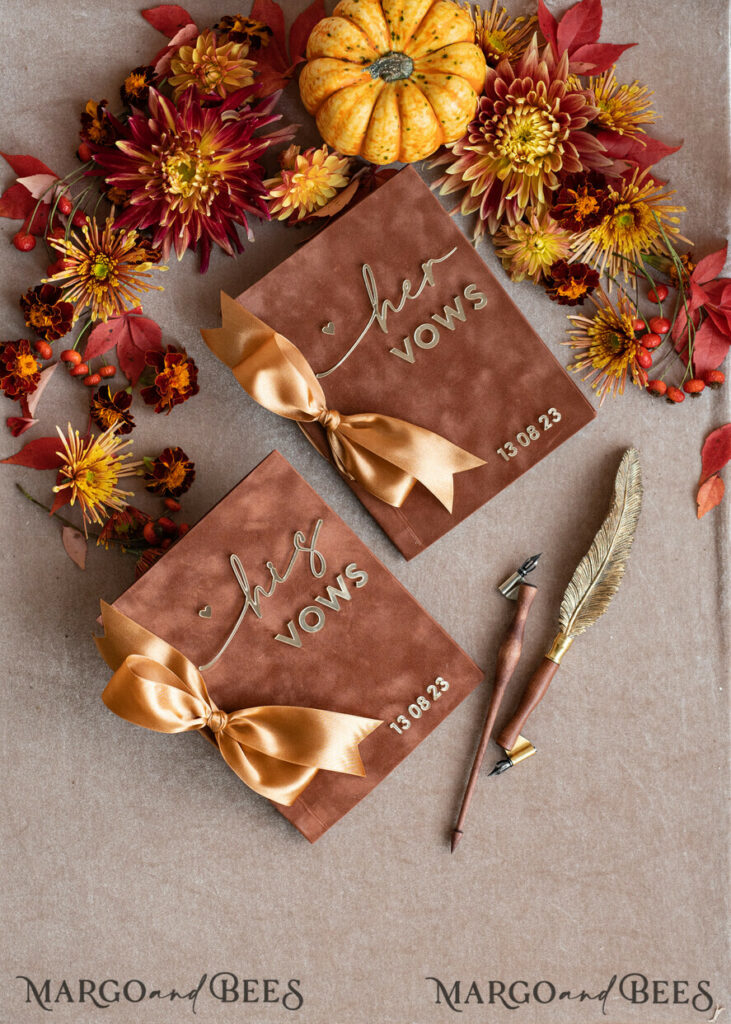 Wedding Bolero Bridal Shrug: For chilly fall evenings, consider a wedding bolero or bridal shrug with long sleeves. This elegant addition not only keeps you warm but also adds a touch of sophistication to your bridal ensemble. Enhance your wedding gown with a fall-inspired dress topper. A carefully selected topper can transform your look, adding a hint of seasonal charm and elegance.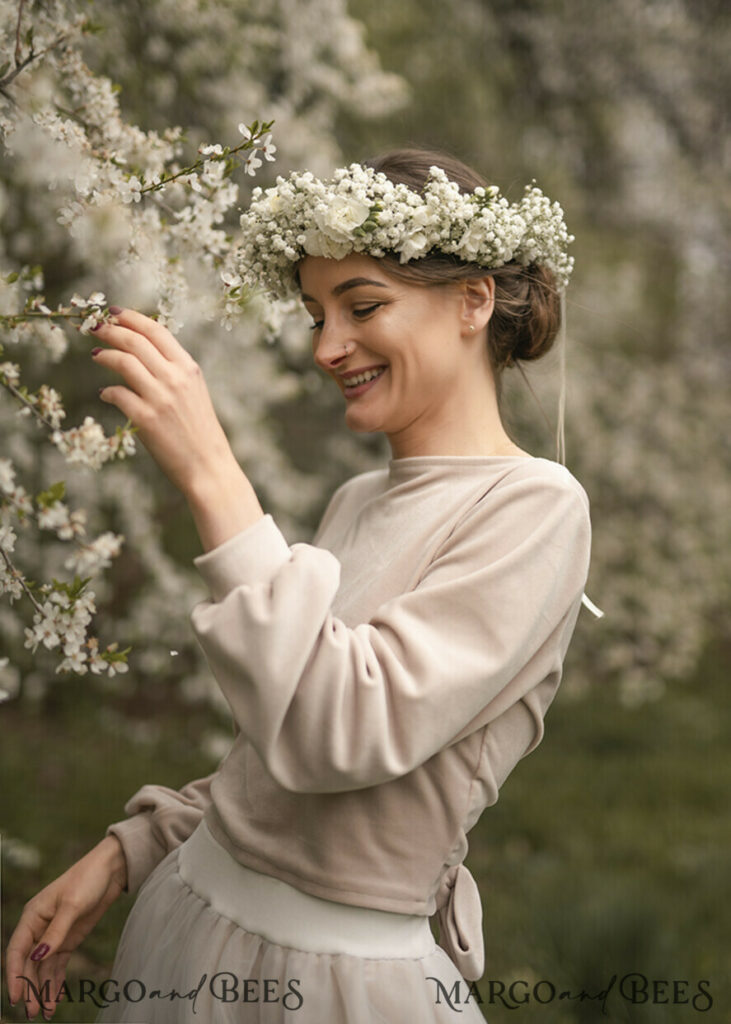 Terracotta Gold Personalized Wedding Guest Book: Capture heartfelt messages from your guests in a stunning terracotta gold personalized wedding guest book. This timeless keepsake will serve as a cherished memento of your special day for years to come. Create lasting memories with a velvet memory photo booth book. Encourage your guests to leave personalized messages alongside their photos, providing you with a delightful reminder of the joy shared on your wedding day. Add a unique touch to your guest book with a polaroid velvet guest book. Let your guests capture candid moments and instantly add their snapshots to the book, creating an interactive and nostalgic keepsake.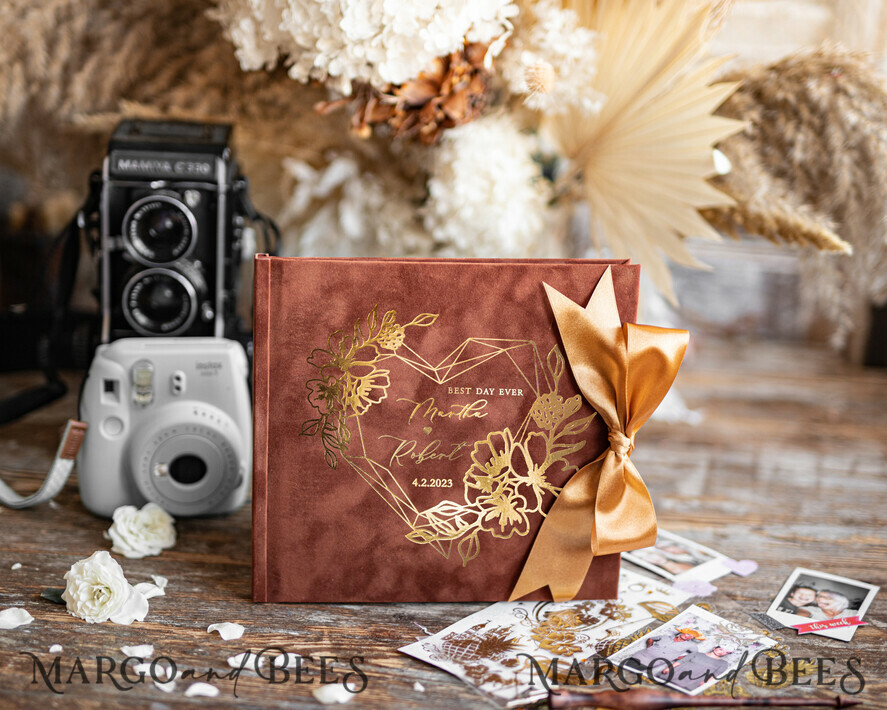 Rust Personalized Wedding Card Box: Personalize your wedding card box with a rustic touch. A custom rust personalized wedding card box not only keeps your cards secure but also serves as an eye-catching piece of decor. A carefully designed gift card box ensures the safekeeping of your wedding well-wishes and monetary gifts. Opt for a velvet fall wedding wishing well money gift card box that complements your theme and adds a touch of opulence to your gift table. Embrace the beauty of the season with a copper luxury card box, adding a touch of opulence and warmth to your gift table. Enhance your fall theme with a burnt orange wedding card box that seamlessly integrates the colors of the season into your wedding decor.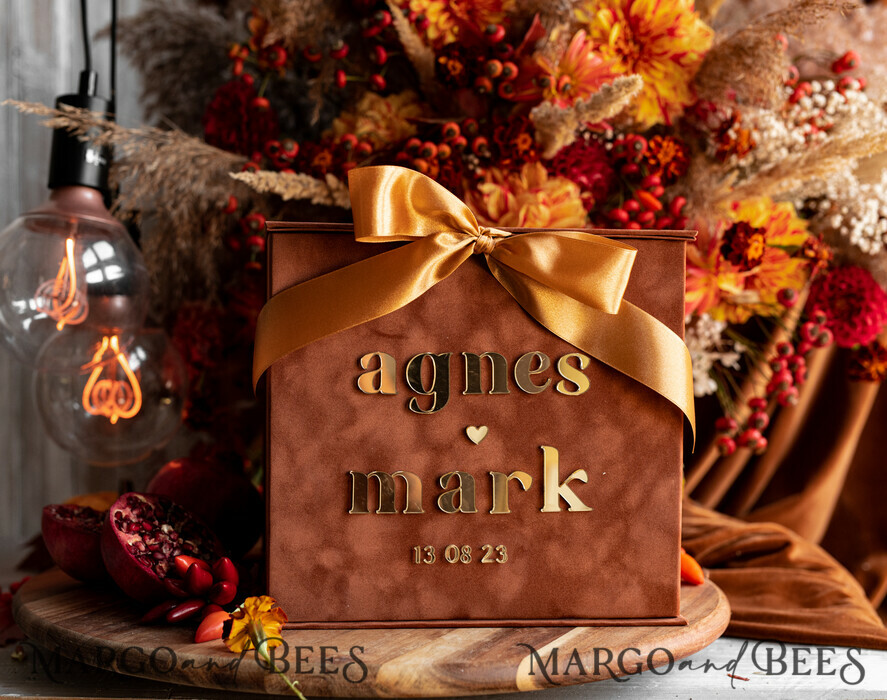 Burnt Orange Wedding Bride and Groom Vow Books Set of Two: Cherish your heartfelt vows with terracotta fall bride and groom vow books. These personalized keepsakes serve as a beautiful reminder of the promises made on your special day. A set of two burnt orange wedding vow books allows both partners to have their vows elegantly documented, creating a lasting memory of your commitment to each other. Capture your emotions in beautifully crafted velvet rust personalized vow booklets, adding a luxurious and intimate touch to your ceremony.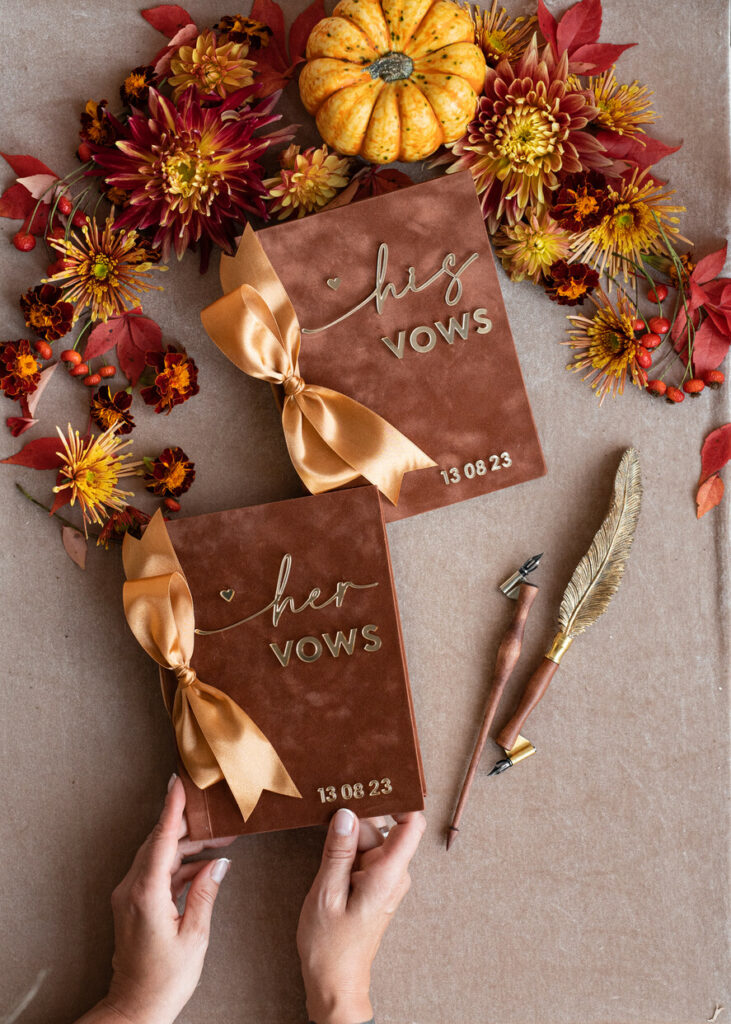 Top Table Sign: Guide your guests with a top table sign that complements your fall wedding theme, directing them to the heart of the celebration with elegance and style.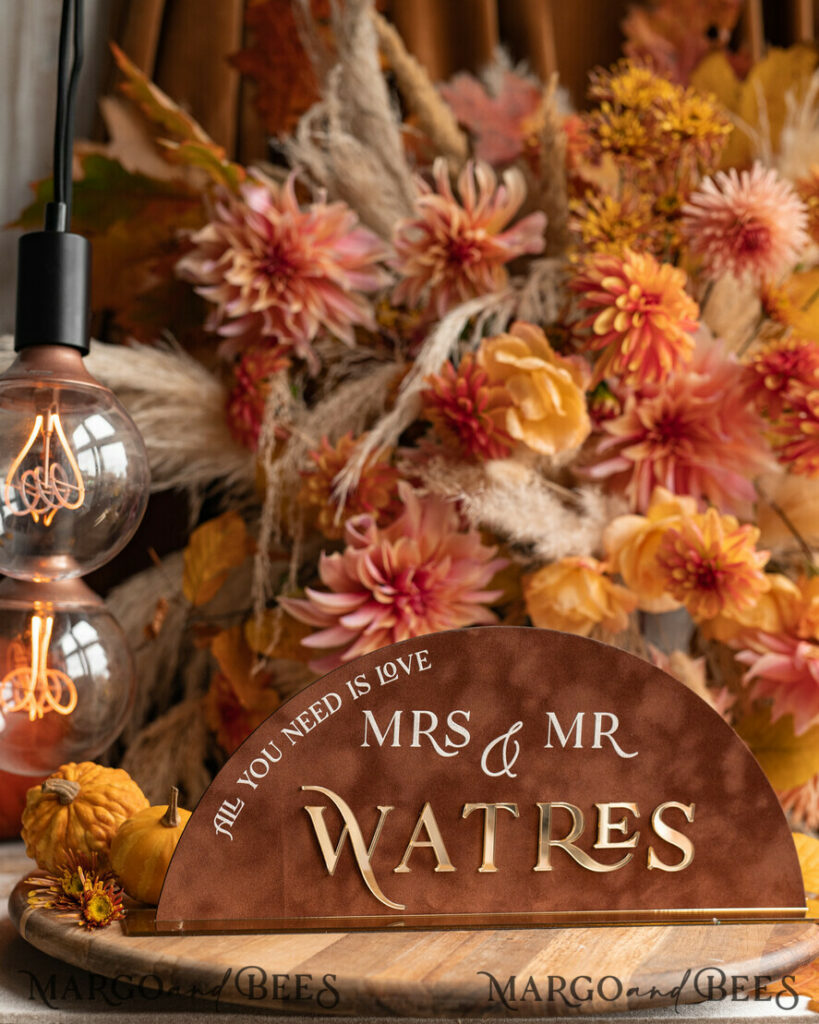 Velvet Fall Wedding Table Numbers: Elevate your table decor with velvet fall wedding table numbers that seamlessly blend with the seasonal aesthetics, adding a touch of sophistication to each table.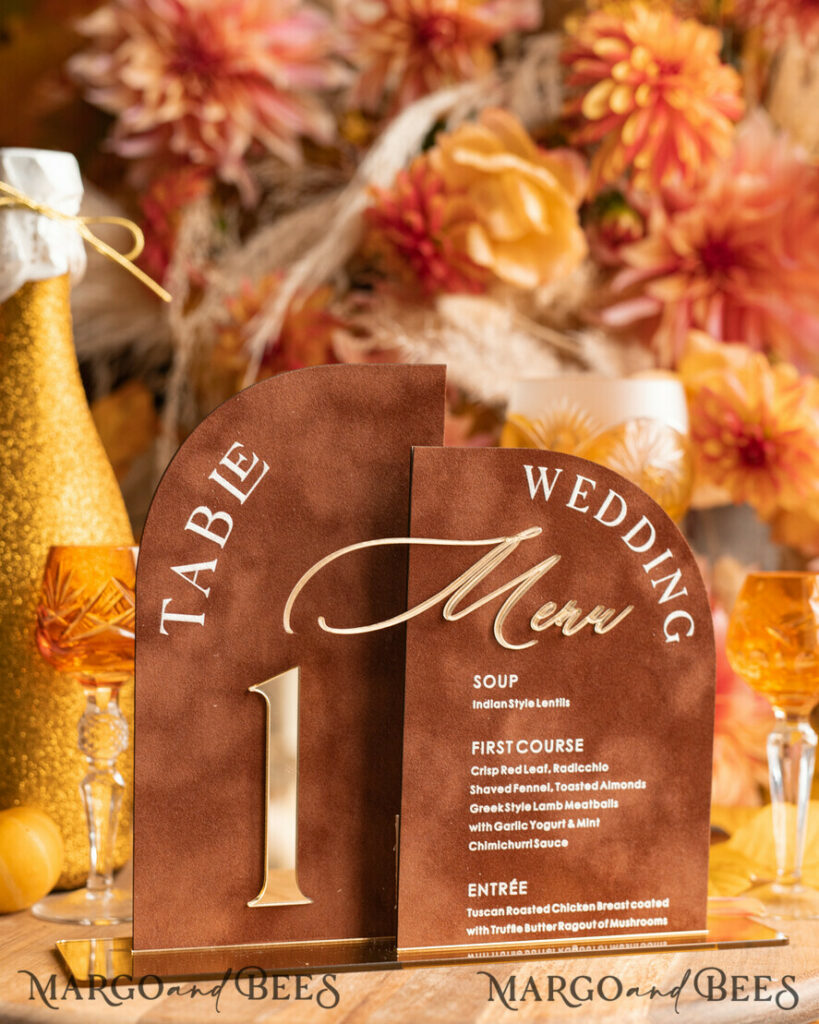 Fall Wedding Place Cards: Complete your fall wedding decor with intricately designed fall wedding place cards that add a personalized touch to each guest's seat, reflecting the warmth and intimacy of the season.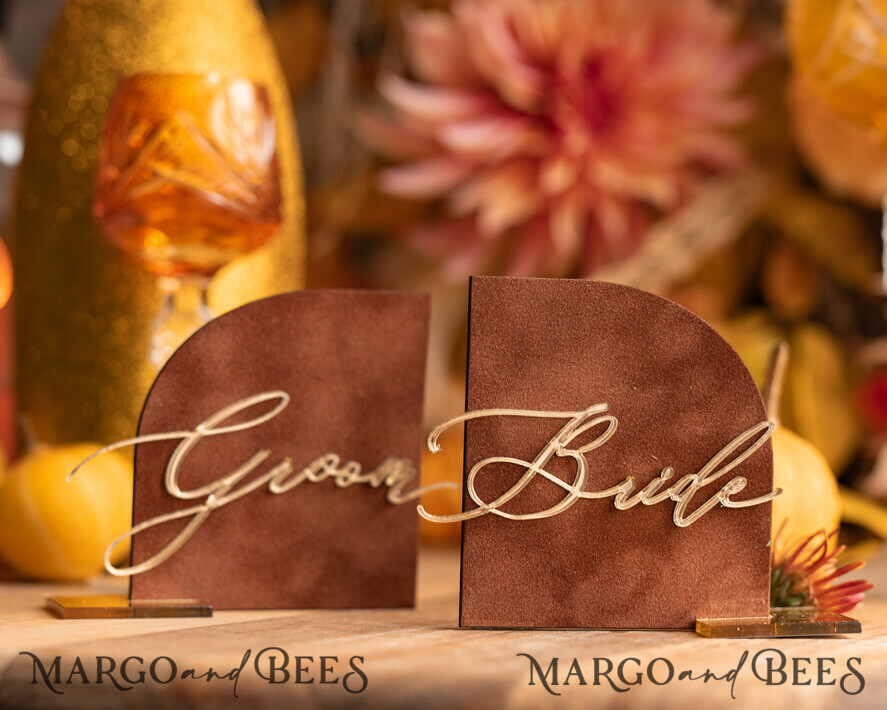 Modern Half Arch Velvet Menu: Incorporate a modern half arch velvet backdrop to your wedding decor, providing a stunning focal point that frames your special moments with an air of elegance and grace.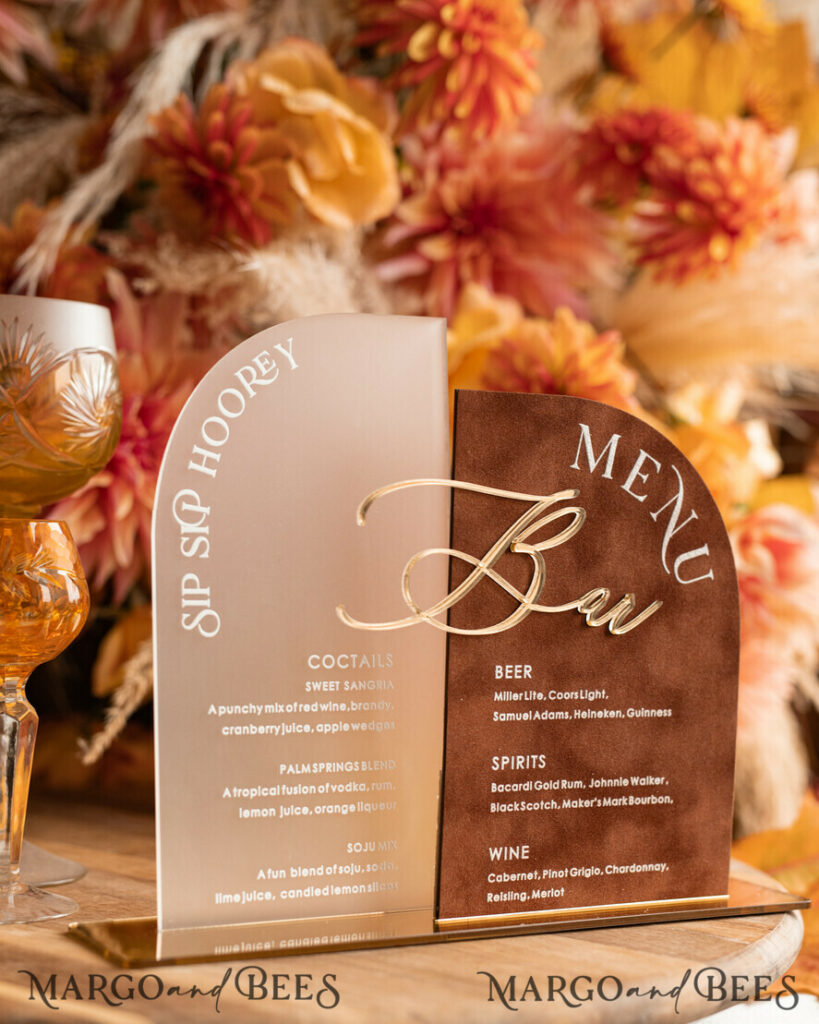 Personalization: We Love Custom Orders. We understand the significance of personal touches on your wedding day. We specialize in creating customized fall wedding essentials that reflect your unique style and vision. Embrace the beauty of the season with our exclusive collection and make your fall wedding an unforgettable celebration of love and warmth.
In summary, a fall wedding presents the perfect opportunity to infuse personalized elements that enhance the seasonal charm and warmth of your special day. With our exquisite collection of customized fall wedding essentials, you can create a truly unforgettable experience that resonates with your unique love story. Discover the magic of autumn with us and let your wedding day be an enchanting celebration of love, warmth, and personalized elegance.
Terracotta Instax velvet Wedding GuestBook Gold, Burnt Orange Instant Wedding Guest Book, Polaroid velvet Guestbook Rusty Golden wedding,
gold terracotta Alternative Guestbook Wedding Mad Lib Sheets in Velvet Box, Marriage advice mad lib Box, Instax Wedding Activity Sheets Leave a Note to Bride & Groom Personalised Box, Marriage Advice Mad Lib velvet box, burnt orange Advice for the bride and groom in velvet personalised box – alternative guestbook, rust Advice for the Happy Couple velvet box with golden letters, Personalised Box with Marriage advice cards,fall Marriage advice cards Velvet Box set, Wedding Mad Libs with activity sheets wedding luxury set
Blush Pink Golden Instax velvet Alternative Wedding GuestBook Box Marriage advice Set, Velvet guestbook Activity Sheets Leave a Note to Bride & Groom set, photo instax box set, Large Instant Alternative Wedding Guest Book in Box Pink Polaroid velvet Guestbook
Luxury Gold Instax velvet Wedding Alternative GuestBook Gold with Marriage advice mad lib, Large Instant Wedding Guest Book Polaroid velvet Guestbook, Guest Book alternative, polaroid photobook alternative, golden velvet photobook box with Marriage advice cards, instant velvet guestbook instax, Golden Instax velvet Wedding GuestBook Gold, Large Instant Wedding Guest Book Pink Polaroid velvet Guestbook, PhotoBook Instax, Terracotta Velvet Photo Box Photographer Box Wedding Memory Box, Burnt Orange Custom Keepsake Box, Rust Photographer Gifts for Clients, Wedding Pictures packaging, Custom photography Copper box, fall wedding garden wedding personalised, Velvet Photo Box Photographer Box Wedding Memory Box, Velvet and Gold Custom Keepsake Box, Acrylic Gold and Velvet Photographer Gifts for Clients, Elegant Wedding Pictures packaging, Custom Boho wedding photography box, Navy Bule and Gold Presonalised Photo Box Photographer Box, Luxury Custom Acrylic Gold Mirror Letters Wedding Memory Box, Dark Blue Velvet Wedding Keepsake Box, Velvet Memory Box, Keepsake Presonalised Box, Photo Album Clamshell Box, Custom Size Scrapbook Box, Custom Keepsake Box Wedding Gift for Couples, Wedding Photographer Gifts for Clients, Boho Instax Wedding Book will be super cute keepsake, Wooden Instax Photo Booth Album is perfect for your wedding Customized, Boho Instax Photo Booth Album Boho Glam personalised guest book polaroids guestbook for your wedding wishes, Timeless and lasting way to keep your wedding memories in Boho Glam personalise Album Boho Photo Booth Engraved Book Boho Instant Photo Book guestbooks, Boho Glam personalised Instax Wedding Photo Guestbook Wooden Boho Instax Wedding Book guestbook, velvet Pink Mirror velvet Seating Char, Wedding Guests Plan, Reception Decor, Please Find Your Seat Sign, Please Be Seated Wedding Sign, Terracotta Fall Wedding Place Cards, Modern half arch Velvet Acrylic Place card with stand, Wedding seat gold Cards, Velvet and Acryl Name Card, Editable Text, Acrylic Arched Table Numbers and Menu Set, Clear And Frozen Acrylic Gold Sign, Gold Table Numbers And Menu Set, Terracotta Velvet Table Numbers, Wedding Signage, Fall Wedding Table Plan, terracotta velvet and Gold Modern Seating Chart, 3d Elegant Find Your Seat – Seating Plan , Luxury Wedding Table Plan, Wedding Decoration with golden letters – Golden Reception Signage – Custom Ceremony Sign,
Luxury Gold Instax velvet Wedding Alternative GuestBook Gold with Marriage advice mad lib, Large Instant Wedding Guest Book Polaroid velvet Guestbook, Guest Book alternative, polaroid photobook alternative, golden velvet photobook box with Marriage advice cards, instant velvet guestbook instax, Golden Instax velvet Wedding GuestBook Gold, Large Instant Wedding Guest Book Pink Polaroid velvet Guestbook, PhotoBook Instax, Terracotta Velvet Photo Box Photographer Box Wedding Memory Box, Burnt Orange Custom Keepsake Box, Rust Photographer Gifts for Clients, Wedding Pictures packaging, Custom photography Copper box, fall wedding garden wedding personalised, Velvet Photo Box Photographer Box Wedding Memory Box, Velvet and Gold Custom Keepsake Box, Acrylic Gold and Velvet Photographer Gifts for Clients, Elegant Wedding Pictures packaging, Custom Boho wedding photography box, Navy Bule and Gold Presonalised Photo Box Photographer Box, Luxury Custom Acrylic Gold Mirror Letters Wedding Memory Box, Dark Blue Velvet Wedding Keepsake Box, Velvet Memory Box, Keepsake Presonalised Box, Photo Album Clamshell Box, Custom Size Scrapbook Box, Custom Keepsake Box Wedding Gift for Couples, Wedding Photographer Gifts for Clients, Boho Instax Wedding Book will be super cute keepsake, Wooden Instax Photo Booth Album is perfect for your wedding Customized, Boho Instax Photo Booth Album Boho Glam personalised guest book polaroids guestbook for your wedding wishes, Timeless and lasting way to keep your wedding memories in Boho Glam personalise Album Boho Photo Booth Engraved Book Boho Instant Photo Book guestbooks, Boho Glam personalised Instax Wedding Photo Guestbook Wooden Boho Instax Wedding Book guestbook, velvet Pink Mirror velvet Seating Char, Wedding Guests Plan, Reception Decor, Please Find Your Seat Sign, Please Be Seated Wedding Sign, Terracotta Fall Wedding Place Cards, Modern half arch Velvet Acrylic Place card with stand, Wedding seat gold Cards, Velvet and Acryl Name Card, Editable Text, Acrylic Arched Table Numbers and Menu Set, Clear And Frozen Acrylic Gold Sign, Gold Table Numbers And Menu Set, Terracotta Velvet Table Numbers, Wedding Signage, Fall Wedding Table Plan, terracotta velvet and Gold Modern Seating Chart, 3d Elegant Find Your Seat – Seating Plan , Luxury Wedding Table Plan, Wedding Decoration with golden letters – Golden Reception Signage – Custom Ceremony Sign, cover or jacket for Bride, elegant wedding bolero, velvet blouse wedding, Delicate Velvet Wedding Bolero, blouse or bolero, wedding bolero, Beige wedding velvet bolero or cover for Bride, Velvet Wedding bolero, Ecru Shrug Women Wedding, Bridal Cover Up, Jacket for Bride, Bridal Blouse Bridal Shrug